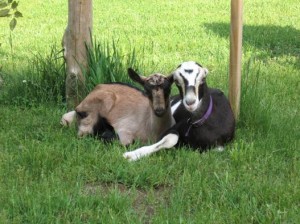 Beltane Farm makes a variety of artisanal, farmstead goat milk cheese on our farm in Lebanon, Connecticut. Although our award winning fresh Chevre is our most popular cheese, we also make a number of fine French style ripened cheeses as well as Feta. Our Oberhasli, La Mancha and Saanen goats are milked twice daily and provide the milk for our cheese.
Our website is currently being worked on again. In the meantime you can place orders for pick up at the farmers market near you or for pick up at the farm.
Choose from the following menu and send an email to ptrubey@earthlink.net
RAW GOATS MILK   choice of quarts or half gallons
YOGURT choice of 5.5 oz cup or quarts
FRESH CHEVRE  choice of 4 ounce logs with dill, chive, herbes de provence, black pepper, or plain 
FRESH RICOTTA  choice of half pound 
Here are the  farmers markets you can choose from :  Lebanon, Glastonbury, Bozrah, Stonington, Chester, Colchester, Westport, Greenwich, Coventry, Lyme (Ashlawn Farm)  Mystic (Denison Homestead) New Haven, Old Saybrook , Stratford and Pawtuxet Village RI.